Its public image was one of prudery and Prussian punctiliousness, but a historical investigation into the sexual habits of the court of the last German emperor has revealed a previously unknown predilection for swinger-style parties and late-night orgies.
Using police files uncovered from the Prussian Secret State Archives in Berlin, historians have been able to reconstruct the erotic goings-on of a group of aristocrats and court officials, which started off as a sex party and ended in a series of bloody duels.
According to the Berlin historian Wolfgang Wippermann, a select group of Prussia's blue-bloods first met at the invitation of Princess Charlotte, the older sister of Kaiser Wilhelm II, at Jagdschloss Grunewald, a hunting lodge in the woods of western Berlin, in 1891.
The partygoers included the brother-in-law of the kaiser, his master of ceremonies, Leberecht von Kotze, a host of aristocrats and a foreign ministry state secretary.
The parties, details of which are revealed in Spiegel magazine, consisted of unbridled sex sessions, in which the participants drank and danced, as well as experimenting with a variety of different sexual positions.
Wippermann's research, which has culminated in the book Scandal in Hunting Lodge Grunewald, due to be published later this month, led him to a total of 246 letters, in which the experiments are outlined in detail.
The gatherings might have remained anonymous but for one of the partygoers, whose identity remains unknown – but who Wippermann suspects to be Charlotte herself – who the day after one of the escapades sent participants blackmail letters.
The letters included illustrations and descriptions of the events of the previous night, and threatened to reveal the identities of the participants.
Wippermann has no concrete proof, but believes that Charlotte, a chain-smoking lover of scandal who died after lengthy psychiatric treatment in 1919, may have even hosted the events with the sole purpose of entrapping her unwitting guests.
The attempts at blackmail exploded into a scandal of huge political proportions when news of the orgies reached high-ranking representatives of the Prussian court, as well as the emperor himself.
A heated debate in the Reichstag followed.
In the correspondence the whistle-blower, who graphologists say was certainly a woman, repeatedly takes a swipe at the Duchess of Hohenau, describing her as a "randy tart".
A celebrated horse rider, the duchess was married to the openly gay aristocrat Friedrich von Hohenau. Her love life was legendary and included liaisons with the future reichs chancellor Max von Baden, as well as Herbert von Bismarck, a state secretary in the foreign ministry.
The letter writer also unleashes her anger on Alide von Schrader, the wife of a master of ceremonies who enjoyed lesbian affairs, and Prince Aribert von Anhalt, an official for the first Olympic games, who is accused of having sex with other men.
After discovering his own master of ceremonies, Kotze, was deeply entangled in the affair, Kaiser Wilhelm had him imprisoned.
But Kotze was soon released because no arrest warrant had been issued and in his thirst for revenge began to search for the partygoers who had revealed his identity.
A series of duels between Kotze and other male partygoers followed. He was injured in one duel, receiving an Easter egg from the Kaiser as a get-well gesture, and then subsequently killed in another, when a bullet penetrated his intestine.
"I'm almost certain that Charlotte was responsible for this cabal," Tobias Bringmann, who has researched the case, told Spiegel. "What is needed now is to get a graphologist to compare her correspondence with that of the blackmailer."
Here are two of the involved in this particular "case" Friedrich von Hohenau, son of Prince Albretch of Prussia and a commoner, Rosalie von Rauch, former lady in waiting of Albretch First`s wife, Marianna of Netherland and his wife Charlotte von der Decken. According the story, Friedrich was homosexual and charlotte a Nynphomaniac who enjoyed to fuck with everyone, including women,
Anther involved was Alide, Baroness von Schrader who supposedly had lesbian intercourse with other royal ladies
Prince Aribert von Anhalt who, like friedrich, enjoyed of anal sex with other men
And Prince Ernst Gunther , brother in law of Kaiser Wilhelm II, also known as "Herzog Rammler"  or  "The Fornicator Duke". who was supposedly lover of   Charlotte Von der Decken. Ernst, later married the awful daughter of Princess Louise of Belgium and Phillippe of Saxe Coburg and Gotha (another Pervie), Dorothea.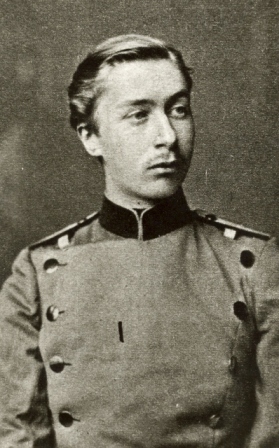 tuesday-johnson likes this
carolathhabsburg posted this